Colombia Tolima Excelso EP Organic - ASCI'SP

*TOP LOT*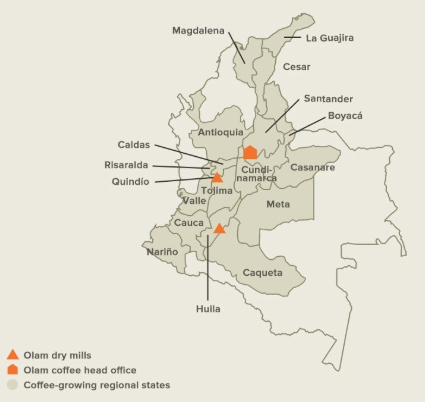 ABOUT THE BEAN
This is an Organic certified Excelso EP grade coffee from the ASCI'SP Cooperative located in Gaitania in the Tolima region of Colombia. ASCI'SP stands for the Asociación Indigena de Caficultores Orgánicos de San Pedro. Founded in 2014, ASCI'SP now has 80 members and cultivates 207 hectares of land collectively. ASCI'SP exists to benefit the indigenous Nasa We'sx group that inhabits the San Pedro vereda, south of Gaitania, Tolima. The Nasa people have great respect for the land they inhabit and cultivate everything organically, leaving as much native flora intact as possible as a matter of principal. The association has helped coffee growers on the reserve to improve agricultural practices and maintain organic and fair trade certifications that the members would have been unable to access independently. The association's local quality analysis function also helps members receive a premium for cup quality, in addition to physical quality and certifications, something not available to most growers. Growing altitude for this lot is between 1600 and 2000 masl and varieties harvested include Caturra, Typica, as well as small amounts of Castillo and Tabi. Coffees are dry fermented before drying on enclosed mesh beds (marquesina) and open elevated patios (elba).
Gaitania is famous for being the birthplace of the FARC, who has had a constant presence in the area for the last 60 years. While Colombia has recently signed a peace accord with the FARC, the Nasa We'sx people have had one in place for over 20 years, ever since the insurgent group faced the indigenous resistance when they tried to take over the reserve land in the 90's and the opposing groups were able to reach an understanding. Thanks in part to good leadership, vision, and the collective spirit of the Nasa We'sx people, Asci'sp has become an exemplary association in just a few years of existence.


ORIGIN: Colombia
REGION: Tolima
SUBREGION: San Pedro < Gaitania < Planadas < Tolima
PRODUCER: ASCI'SP Cooperative
PRODUCER TYPE: Cooperative
PROCESSING: Washed
PROCESSING DESCRIPTION: Dry fermented, dried on enclosed mesh beds (marquesina) and open elevated patios (elba).
WET MILL: On farm
DRY MILL: Cafexcoop
COFFEE GRADE: Excelso EP
GROWING ALTITUDE: >1600m
VARIETY: Castilla, Caturra, Tabi, Typica
CERTIFICATIONS: Organic



Information provided by Olam Specialty Coffee
©Copyright appelkoos coffee